Welcome to
The Run-Off Groove
#215. I am John Book, shoots! Lots of music to review, so let's get to it.
---
Wee
were a group that didn't get a lot of attention, but once you listen to the reissue of their first and only album, you'll want to know why they didn't make it into the big time.
You Can Fly On My Aeroplane
(Asterisk/The Numero Group) is an album created by the mind and instincts of
Norman Whiteside
, a young man who loved music so much he stole money from his mom in order to get a bit of studio time. According to the liner notes, his hard work and determination would finally get him in the studio, where it was discovered he wanted to be a songwriter as well. Here was a maestro in the works, but the struggle to be heard also involved a struggle to survive and pay the rent. In the years he pushed himself as an artist and songwriter, he eventually found himself along a group of musicians that would end up creating one of Columbus, Ohio's greatest soul secrets, until now.
Essentially a Whiteside solo album,
You Can Fly On My Aeroplane
is mid-70's soul at its finest: the enhancement of keyboards and synthesizers as the main instrument, a groove that can turn into a bit of improvisation, if you were a fan of
Herbie Hancock
,
Earth, Wind & Fire
,
Sly Stone
,
Ramsey Lewis
, and some of CTI's soulful jazz during the same time period, you will eat this up as it touches on that thin line between meditative soul and the quiet storm. It's one of those private press albums one might take a chance on if finding it, but Whiteside and the guys behind the recording wanted to make this sound like nothing that ever came out of Columbus or the state of Ohio, and it is that good, with the kind of singing and arrangements that would make
Shuggie Otis
and
Prince
smile from ear to ear. Tracks like "I'm All Changed", "Fine Me, Love Me", and the title track all had the potential to be singles and even though Whiteside's own life was anything but a vacation, he looked to further himself in a field he loved so much. Whiteside's sweet falsetto voice is at time reminiscent of
Johnny Wilder Jr.
of
Heatwave
, but there is that Ohio connection between the two so perhaps there was something in the water.
It is an album that is deserving of a second chance, and now with extensive liner notes and photos, it's a chance to move closer to the essence of a group whose time in the spotlight should have lasted a lot longer. This album is an extension of the shine.
(
You can Fly On My Aeroplane
will be released on September 30th, and can be pre-ordered through
Dusty Groove
.)
---
Ava Logan
is a jazz vocalist who swings and sways with such class that you want to take her home and make her breakfast, lunch, dinner and breakfast (thank you LL). Yet she originally didn't set herself to be a jazz singer, she was trained as a classical singer but she uses both elements to create
So Many Stars
(DivaVet Music). "Too Close For Comfort" is smooth but there's a bit of that little extra that shows she's not just someone who is well versed in jazz. "The Grass Is Greener", "At Last", and "The Best Thing For You" display her vocal range beautifully, and her band (
Leon Joyce
on drums,
Larry Gray
on bass,
Larry Novak
on piano, and producer
Henry Johnson
on guitar are perfect for each of her nuances and sudden surprises.
The song selection is quite nice, but it would have been cool for her to sing a non-jazz song with a jazz arrangement, so it would show a bit more of her capabilities and extend the potential of the song. Of course that's adding a gripe to a singer and a CD that doesn't deserve it, and Logan is deserving of many listens.
(
So Many Stars
is available from
CDBaby
.)
---
Bob Mover
is a saxophonist and a singer, and in both he shows that he is a scholar and a gentlemen with the release of
It Amazes Me
(
Zoho
.) If you are into mellow balladeering and a sense of romance that will entice your wife or significant other, this is the perfect album for you. Mover sings 6 of the 10 songs on the album, and unfortunately his voice was not to my liking. That's not to say it's bad, because it isn't, but it's not the kind of style I enjoy listening to on a regular basis.
How about the music? His sax work is great, especially in tracks like "(Tu Mi) Delirio)", "People Will Say We're In Love", and "Sometime Ago", and it makes me wish he either made this entire album instrumental, although I should say that the vocals are tastefully done (I just wouldn't want to put it on repeat).. For anyone who enjoys saxophone playing with definition and style,
It Amazes Me
couldn't be a more appropriate title. Other musicians on the album include
Steve Williams
(drums),
Igor Butman
(tenor sax),
Reg Schwager
(guitar),
Kenny Barron
(piano), and
Dennis Irwin
, and together they create the recipe for intense listening pleasures. I somehow have a funny feeling that when I least expect it, I'm going to hear a song on a radio and be totally blown away, only to follow with the voice of the radio host saying "that was the moving Bob Mover" and I'm going to say "oh snap!" Until then, I'm very happy with his sax work and I will not hesitate to listen to that side of his creativity.
(
It Amazes Me
is available from
CDBaby
.)
---
The fact that the opening to
Kelly Rossum
's new album
Family
(612 Sides) sounds like a cross between a solemn funeral and a festival gathering may be intentional, as both can be viewed as celebrations of the past, the now, and the good things to come. The trumpet man is in top form on this album where he proudly states in the liner notes
this recording was done live in one room with no overdubs. This is a jazz record.
It feels like home, and it feels like something you'd experience in a jazz club before the eternal hour of 3am, and perhaps it's one and the same. The fact that it sounds so down home is due to the love of jazz that Rossum and his band mates share.
Family is about his jazz family, his musician friends, and of course his immediately family, and the album's ten songs are a musical interpretation of what family means to him. The title track is a mellow piece from start to finish, welcoming the listener in for a seat and something from the fridge (which is nicely decorated in the CD booklet). The muted trumpet solo in the last third of the song feels like a tribute of sorts to New Orleans, and one can imagine the saints marching in, out, and back again in honor of those who have come and gone throughout the city's rich history.
Chris Bates
' bass work in this song can be felt, not only emotionally but literally, as it booms out of the speakers as if he's looking for your direct attention to him, Rossum,
Bryan Nicholss
(piano), and
JT Bates
(drums).
The little Rachmaninoff intro to "Pure Imagination" is a nice touch for anyone who has taken
Willy Wonka & The Chocolate Factory
to heart, especially we music makers who continue to be the dreamers of the dream. Rossum and his band seem to dabble between playing it straightforward and the tendency to turn it into something almost avant-garde, or perhaps it's imagination and intellect in audio form. The child-like innocence continues with a warm cover of
Joe Raposo
's "Somebody Come And Play", known to millions of children (and children at heart) who watched
Sesame Street
religiously. Just as home can mean comfort, the guys get very comfortable in "If I Were A Bell", and there are times in the song where it feels as if they're playing independent of each other while being aware of what each other is doing. In other words it's loose, but it never gets to the point of chaos. Perhaps like our own families.
The theme of
Family
is obvious, and whether it's with relatives or musicians with common interests, it's a sense of community that we look for and try to pass on. With his music, Rossum says no matter how far you travel, you can always come back to the embrace of those who love and support you from the start. One of the best jazz albums of 2008.
(
Family
is available from
CDBaby
.)
---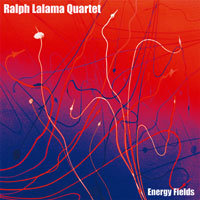 Saxophonist
Ralph Lalama
has released a number of albums and has done session work with some of the best, from
Joe Lovano
to
Mel Lewis
.
Energy Fields
(
Mighty Quinn
) is an album with his quartet that features
Joe Corsello
(drums),
Rick Petrone
(bass) and
John Hart
(guitar). Immediately, one can hear how well each of them play, these aren't guys who rest. Songs like "The Moontrane", "Buzzy", "United", and "Indian Summer" carry the great spirit of jazz with incredible improvisation and musicianship that to me is top notch. The original composition "Nonchalant" is anything but, and what I like is hearing Lalama just go at it with such precision. Same can be said for his musicians, and these guys would probably sound powerful in a live setting.
What's also great is the recording itself, done by
Richard Corsello
and produced by
Jerry Roche
. Corsello captures these guys very well, it's not too thin and it's obvious they're all in the same room together, so there's that added interaction that is essential to any jazz recording. Fans of Lovano,
Charlie Mariano
, and
Phil Woods
, along with hard bop enthusiasts, need this in their collection.
(
Energy Fields
will be released on September 16th, and can be pre-ordered from
CD Universe
.)
---
Awhile back I reviewed these guys and their
Latest Outlook
, and what I heard was the kind of jazz I could listen to for hours on end.
The Stryker/Slagle Band
, fronted by guitarist
Dave Stryker
and saxophonist
Steve Slagle
, have returned with
The Scene
(
Zoho
), and this time around they have the great
Joe Lovano
sit in for a few tracks (four in total). Along with
Victor Lewis
on drums and
Jay Anderson
on bass, this is one of those albums that you want to recommend to anyone, not only for fans who want to hear the best in jazz but the jaded collectors who feel jazz hasn't had that spirit since the mid to late 50's. You can tell your friend that he has almost five decades of music to catch up to, and maybe he can begin with
The Scene
.
Eight of the album's nine songs are originals, with
Rahsaan Roland Kirk
's "Fingers In The Wind" being the exception. Stryker's guitar playing is not unlike
Pat Martino
, which I've probably said before but it's worth saying again, and there are times when he plays it like a Hammond organ, I had to look at the cover and credits to see if there was someone on the B-3. Nope. There are a number of guitar/saxophone collaborations in jazz, and with this album these guys balance each other out by doing deep into the song individually and then finding a meeting place to reach the finish line. Sometimes Slagel will play the lead melody while Stryker will play in harmony or a countermelody (as they do in the title track), or vice versa, or they'll take a different approach and make that work for them. I don't know if "heartiness" would be the right word to describe their music, but Slagel's playing has a heartiness that carries a lot of weight for me, and it's great to hear him grace each song and follow his path. Stryker is never far behind even during Slagel's solo, and it is in those times when you can concentrate on Stryker and Anderson creating something that comes off like a mantra, with Lewis hitting the cymbals almost like
Elvin Jones
or
Roy Haynes
.
To put faith in an album seems like a foolish idea these days, but those who say that probably aren't listening to the right music, yet alone albums.
The Scene
is an album you can trust and is an album Zoho Music should be very proud of.
(
The Scene
will be released on October 14th and can be pre-ordered through
CD Universe
.)
---
Second off, please check out FudgeFM, a website I'm involved with. Music, news, videos, reviews, and much more. I will be adapting my Thrift Store Adventures into video very soon. You can read through my blog, featuring not only news and updates, but exclusive articles you're not going to find anywhere else, including the new Dust It Off series where I honor albums of the past.


---
That's it for this week's column. If you have music, DVD's, books, or hot sauce you'd like for me to review, get me through the ol' MySpace and I will pass along my contact information.


Thank you, and come back next week for #216.